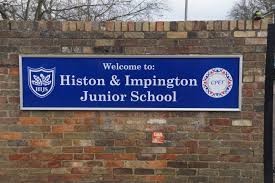 Full Council was held on Monday 16th January, when 17 members of the public attended.  For draft minutes look here.   Items of note:
Future of Schooling
Lesley Birch, Histon & Impington Junior School Executive Principal, addressed the meeting with a summary of proposals going before the County Council's Children's Committee for decision on future provision of primary schooling in Histon & Impington.  A motion to support these proposals was withdrawn and, instead, the County Cllrs for the villages were asked to express the Parish Council's support in principle for the proposals, to report on concerns expressed about the provision, and ask for the Parish Council to be involved in any detailed development and implementation going forward.
(at the Children's Committee meeting itself an amendment to the County Council's motion requiring it to engage with the Parish Council during the detailed planning and implementation of its proposal was agreed).
Public Art schemes – Quacky Races
The organisers of the very successful event held in September 2016 presented to the Council on proposals for management of the Section 106 Public Art funding received from recent development at Villa Road.  These plans include further Quacky Races events and would aim to deliver a permanent cultural legacy to the villages.  Details will be discussed with the Public Art Working Party and a fully developed proposal brought back to Full Council
Council Tax News
The Council reviewed budgets and spending reports and agreed to request a precept of £318,351 from South Cambs District Council which represents an increase of 4.48%. This gives a Band D rate of £97.18 per annum, an increase of £4.16 (8p per week for a Band D household, and similarly being £2.77 a year/5p per week for Band A; and £8.32 a year/16p per week for Band H)
The Council undertook to carry out work in the first half of the new financial year to produce a "Priorities and Aims" policy to assist budgeting processes going forward
The next meeting is Monday 20th February 2017.   All will be welcome.