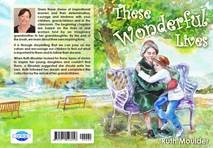 We have received the following from Hisimp Library Friends:
When Ruth Moulder looked for stories of inspirational women for her young daughters and couldn't find them, a librarian suggested she write her own.  Her story collection was finally published with the arrival of her grandchildren.
Join Ruth and her publisher to share her journey to publication in this illustrated talk.
Thursday 16th March 7:30 at Histon Library
Tickets, £3 including wine/soft drink, are available from Histon Library, by emailing HisImpLibraryFriends@gmail.com or calling 0345 045 5225 in office hours.
Copies of Ruth's Book will be on sale at the event.