The red phone box on Milton Road, Impington, was purchased by the Parish Council in 2015, and is intended to be used to display some art screens that will be commissioned in the near future.
The box itself is what is known as a K6 type (kiosk number six), and these were first produced in 1936, designed by Sir Giles Gilbert Scott to commemorate the silver jubilee of King George V. It was consequently sometimes known as the "Jubilee" kiosk. The crown on the box is known as a Tudor Crown, and we know that these were replaced with a St Edwards's Crown from 1955 onwards, which means that our box must date before then.
Getting hold of the correct paint and parts for the renovation of the box has been relatively simple, as there is a company who specialise in supplying everything, and who are recommended by BT – we found this out after talking to Girton Parish Council, who have three boxes that they have, or are going to, renovate. The box had previously been a combination of glass and plastic windows, so it is now all plastic to make it longer lasting and safer.
The following pictures show some of the stages of the renovation. This is the box before work started, looking quite sad for itself. It had been stripped ready for painting, and some parts had been welded, but it now needed a little TLC.
This is the box in its" pink phase"; it took the painters a whole day to prepare the surfaces, and this is the undercoat being applied. Again, it was the official primer that was being used.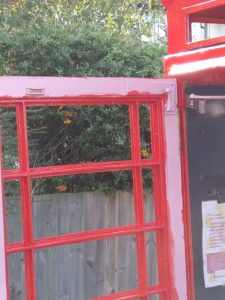 Now the box is getting its top coat – this is officially "Currant Red" . It is already starting to look so much better, and they have dug out around the base of the box which was hidden by soil, so that you can see the box in its full glory.
And then this is the finished article! The crown has been picked out in gold, which became a tradition when people wanted to emphasise the historic nature of the boxes. And you can see the newly painted black base which has been uncovered from the soil. Our thanks to Pro-Serv for the work they did to renovate the box. Watch this space for more details about the art work to come!